A2 Hosting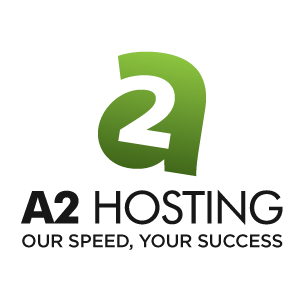 Fast Hosting
High Reliability
Affordable
A2 Hosting Review: If you want to hook yourself with an Award Winning hosting service, then here you are. A2 Hosting covers all the demographics involved in the Web Hosting space. They dont gurarantee providing 247 support but they provide you with that enabling a little more than 99.9% uptime for your web site.
This is what they have to say about themselves:
At A2 Hosting, our customers have gotten used to getting something more. Something more as in Linux web hosting features like our server backup technology Server Rewind. Something more as in hosting services like Guru Crew Hosting Support. Something more as in simple things like confidence that your site is going to be available because of the A2 Hosting 99.9% Uptime guarantee. The A2 Hosting Difference – that something more that you will find here.
Host your site with us and experience the A2 Hosting Difference. Read on for just some of the web hosting services that separate us from those other guys.
A2 Hosting seeks to fulfill every basic hosting niche available while providing quality services that customers can afford comfortably. This makes A2 perfect for individuals and groups seeking to start small with one web host before scaling up dramatically.
By utilizing some of the most competitive hosting deals, providing amazing support, and giving customers the ability to run common web-based applications, A2 Hosting excels where many web hosts tend to fall short. Couple this with the servers optimized for both performance and reliability, and A2 quickly becomes one of the most attractive web host options for anyone.
Pros/Cons:
One important difference to understand about A2 Hosting is that they provide more consistent options across the various hosting options they supply to their customers. This means additional features and even things like performance tend to be exactly what you would expect.
The following pros and cons are a generalized list of the various aspects of A2 Hosting. While you should still check to ensure each applies to any specific package you have in mind, chances are that it will.
Pros:
Friendly Hosting – A2 has pulled every stop to develop hosting that works with the customer. Things like one-click installation of software like Joomla and WordPress, an optimized Cpanel, accessible answers to frequently asked questions, and more make it easy to have a problem-free experience as a customer.
Incredible Reliability – While A2 Hosting only promises 99.9% uptime, they often exceed this uptime promise. This happens due to their employment of experienced system admins and the use of cutting-edge technology.
Perfect Performance – A2 has meticulously optimized every aspect of their servers to ensure that their hosting is as efficient as possible. This provides two further benefits to you as the customer: cheaper hosting and faster load times, both of which can be paramount to a successful website.
Routine Backups – Unlike some web hosts that require you to pay additional fees for backups or to configure your own, A2 tends to provide this service as a standard feature with their hosting packages.
Scalability – This is one of the most important features that any web host can provide, and A2 does give it to you. You can start small and upgrade your package to another type of hosting. You can even upgrade between the different levels of packages that A2 provides.
Savings – A2 regularly provides customers with promotions and other ways to save. Although these deals may not be as frequent as the ones provided by other hosts, they do tend to be applicable to everyone. This includes existing customers, which many hosts choose to exclude from most promotions.
Cons:
Fewer Advanced Features on Low-End Packages – Shared hosting has many of the more advanced features disabled or simply absent. Things like PHP caching, which can be crucial to website performance, are enabled only on the larger packages.
Strict Terms of Use Enforcement – While not exactly a con when you consider how it helps in shared hosting environments, A2 tends to be stricter on how you use resources when you use a plan that has shared hosting. This enforcement seems to be limited to warnings and suspensions, as very few people have reported termination of their services.
Support Ticket Problems – While A2's support representatives tend to provide phenomenal support when they do answer, there are times when support tickets will simply be closed out. These times seem to be incredibly infrequent, but be aware that they do exist.
A2's Hosting Packages
A2 Hosting provides a greater variety in hosting packages than many other web hosting providers. They cater to small groups as well as large ones that demand dedicated and cloud hosting.
Below is a brief overview of the web hosting packages and features provided by A2.
Shared Hosting
Available in three levels, A2's shared hosting is optimized out of the box. Each package provides PERL and PHP support. This makes it perfect for hosting applications such as WordPress, Drupal, PrestaShop, Joomla and more.
All three packages provide unlimited storage and support. The hardware that shared hosting operates on is both robust and optimized.
Reseller Hosting
A2 provides customer interested in reseller hosting with a variety of options. While there are three packages listed on A2's website, it may be possible to contact A2 specifically to arrange for different transfer and storage needs.
Reseller hosting runs on the same excellent server hardware as the rest of A2's web hosting, but it's worth noting that users can opt to purchase some of A2's more advanced services when you utilize their WHMCS client management service.
VPS Hosting
Two distinctly different flavors of VPS hosting are available to you: traditional and cloud-based VPS hosting.
The former is exactly what you'd expect. It's VPS hosting designed to support medium to large business with a growing amount of traffic or hardware usage. It provides many of options available to dedicated hosting plans for a price that starts at the average cost for shared hosting.
Cloud-based hosting is different. It provides you with the ability to pay only for the resources you use while giving you the ability to handle large spikes in traffic. You can even shift how many resources are available in real time using A2's cloud-based VPS hosting.
Dedicated Hosting
Just like with their other hosting packages, A2 gives you a significant amount of flexibility with dedicated hosting. You can take advantage of the traditional type of dedicated server or you allow A2's experienced staff to manage your server for you.
A2's dedicated hosting can be combined with other features, such as CDNs, to maximize both the performance of your website and how quickly it loads for users around the world.
A2 Hosting's Features
Cutting-Edge Hardware – A2 employs a variety of cutting-edge components in their servers. They utilize SSD raid 1 storage, robust Intel processors and speedy memory to give you the best hardware available.
Dependability – A2's customer support is there to help you when any problem arises.
Integrated Performance Boosts – Every hosting package has the ability to integrate things like A2's Turbo Server Boost technology.
Flexibility – You can easily upgrade your hosting when you require more resources. This makes efficiently running your website significantly easier.
Reliability – A2 promises 99.9% uptime but tends to deliver more than that. This means you and your customers will be able to visit your website at almost any time.
Optimized Servers – Using specially optimized software and hardware allows A2 to deliver more performance. This results in pages with quicker load time than average, fewer resource overuse errors and the ability to serve more pages to your visitors.
Additional Services
A2 provides numerous additional services with their hosting packages. Some are included at no additional charge, while others may need to be be added at your request.
Features like cloud technology, server boosts, advanced web page caching and custom servers are all examples of additional services that A2 will provide you.
A2 even allows you to opt for managed hosting when you choose a more robust package like dedicated hosting. This allows you to have the power of a dedicated server without forcing you to worry about maintaining it, which means you can focus on developing applications or running a huge website.
Other services provided by A2 include: domain registration, domain transfer, shared and private SSL certificates, and WHCMS licensing.
Specialties
A2 Hosting specializes in everything that you might want as a customer. They provide hosting packages designed for individuals, small to medium businesses, large businesses and developers.
This makes them perfect for a large range of people, especially given their high reliability and robust hardware configurations alongside their reasonable prices.
Data Centers
A2 Hosting currently has three data centers located around the world for their traditional types of hosting. They are located in:
Southfield, Michigan, USA
Amsterdam, Europe
Singapore, Asia
Each data center has experienced and reliable employees capable of managing servers, updating components, troubleshooting hardware and more.
A2's cloud-based services are based in the United States.
Company
A2 hosting started out as a modest company by the name of Inquinet in August of 2001. Inquinet was created to fulfill the needs of a few local clients while the Dot Com Boom was still going strong.
Over the next two years, Inquinet began to rapidly expand by focusing on the needs of its clients. It was changed to A2 Hosting in March of 2003.
A2 hosting continued to steadily expand over the next 12 years by integrating new technology, such as MySQL 5 and the capability to switch PHP versions, into their servers as a standard practice. This model allow their hosting to stay competitive in terms of price and amazing in terms of service.
User Experience
Most A2 Hosting reviews left by customers reflect an overwhelmingly positive opinion of the company. They cite that competitive prices, a wide array of features and an incredible reliability are among the reasons that they were the most satisfied with A2.
Unlike many other web hosting companies, many users decided to stay with A2 as their web hosting company even after any initial promotions expired. This exemplifies A2's desire to build long-term relationships with customers, which in turn brings reliable repeat business.
Negative A2 Hosting reviews cited things that are common to most web hosts, which includes the occasional down time, suspension for overuse of resources and problems with customer support.
Customer Support
A2 provides numerous types of customer support. They have an accessible knowledge base, a blog that occasionally posts about common issues, a forum where users can seek the help of others and a support ticket system.
You can contact A2's customer support via their support ticket system or by calling 1-888-546-8946.
Guarantee + Cancellation
A2 Hosting provides two guarantees to customers: a 30-day money-back guarantee and a 99.9% uptime guarantee.
The 30-day money-back guarantee allows you to receive a full refund within 30 days of purchasing a package from A2 Hosting. You must contact a member of customer support to begin this process.
The 99.9% uptime guarantee states that you will receive 5% of your bill credited to your account for every confirmed hour that your website is inaccessible. You must contact support to utilize this guarantee, and they must confirm that your website is inaccessible due to a problem with A2's services.
Cancellation itself is incredibly easy. You must log in to the Customer Portal to begin the process of cancellation. You view your services, click "Cancel" and then you can request your cancellation.
One thing worth mentioning about cancellation is that you may cancel immediately for a small refund or you may wait until the end of your current billing period.