HostPapa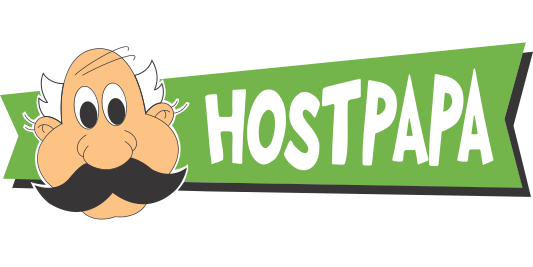 Establish Company
Affordable
HostPapa Review: HostPapa maintains highest standards in its hosting service. Everything is excellent starting from the price to support. At HostPapa every customer is part of the family. When you join HostPapa you get hosting from a Green Energy Powered Hosting Service, thereby you would do your part in saving the planet.
About HostPapa:
HostPapas goal is to provide every customer with a fully-featured hosting package, backed by top customer service and powered by renewable green energy. HostPapa is an established, privately owned company and a leader in high-value, low-cost hosting.
Over the years, HostPapa has built a solid reputation for our commitment to security, reliability, technical expertise and the best in customer support.
Although HostPapa has experienced considerable growth, one thing hasnt changed: we have always believed in treating each HostPapa customer as part of the family. We aim to treat our family well, and strive to provide uninterrupted service, comprehensive educational resources, and all the tools needed to develop an exciting, accessible, quality website.
Valuable features and benefits we offer, including:
* Guaranteed uptime
* Around-the-clock customer service
* Security and reliability
* Free domain for life
* Leading software
* Top-level servers and technology
* Easy-to-use design and administration tools
* And so much more!
We know how important your website is, to you and your business. Let Papa take care of you!
Nowadays, it is better to read reviews about web hosting sites before taking on to them & start working upon your plan. It is better not to buy a domain before reading reviews as they are helpful all the way. According to HostPapa, the company is reliable in the field of web hosting.
The Great Green Hosting With Database in Canada.
HostPapa provides a shared web hosting service. It is based in Canada and carries the slogan 'Green Web Hosting'. Now there are many competitors like ecowebhosting which boast on providing an environmentally friendly service claiming to be backed by green energy which does not harm the environment in any way, but HostPapa is unique as it is certified to be 100% green. The good news for customers is that with HostPapa's hosting services they can also advertise their own websites as being environmentally friendly. This can be done by using the logo provided on HostPapa's website.
Linux based web hosting is provided by HostPapa via a shared plan. Plan for resellers is also available. Unlimited disk space and bandwidth along with the capacity to host unlimited domain names with an account are some of the features of the shared web hosting plan. It is most beneficial for customers signing a 3 year contract as it is the most economical. The shared plan provides added benefits like Facebook and Google credits and is one of the most affordable services available. Other free extras include WordPress for blogging purposes, Amazon, Bidvertiser and Viva ad credits, and Joomla which are all valuable tools for customers.
Along with the shared hosting plan, Hostpapa also provides 5 reseller hosting plans consisting of unlimited domain names, MYSQL databases and 3 IP addresses. The amounts of bandwidth and disk space used determine the price of these packages, which seems a good choice for the customers as they pay for what they use. The SohoLaunch software which comes with every HostPapa account is a good addition to the whole package, as it enables users to make their websites with ease and add features like a shopping cart. Consumers are also aided by the included cPanel system which makes it easier and safer to make e-commerce websites with added functionality by installing 50 scripts with just one click. Good security measures are provided with protection against spam, password protection and protection against email viruses.
There are a variety of video tutorials available in many languages for new users and a good knowledge base to search for answers they're looking for. HostPapa also provides good customer support. HostPapa representatives are available 24/7 by live chat, email and phone. They are also known to be very helpful with solving most of the problems that people face with these kinds of services. As a result HostPapa meets the BBB accreditation standards and has received a rating of A- which is pretty good considering the business was set up not too long ago. Users thinking of switching to HostPapa are aided by the free domain transfer and renewal, free transfer assistance, and unlimited disk space and transfer. All this makes transferring to HostPapa a breeze. It also provides a 30 day money back guarantee.
Considering all the things listed above, I would say that HostPapa is one of the best, if not the best web-hosting service available as customers enjoy a cheap service which is environmentally friendly which counts for a lot in today's world.